Treatment for Skin Tightening and Acne Scarring
what is rf microneedling?
RF Microneedling combines the use of multiple tiny needles and the power of radiofrequency (RF) energy to stimulate collagen remodeling in the skin, causing the skin to be thicker and tighter over time. The safe RF Microneedling devices use insulated needles to deliver a blast of RF energy specifically into the dermis (the deeper layer of the skin where the collagen and elastin are located). This reverses the slow thinning out of the skin that happens as you age. RF Microneedling has become the standard when it comes to non-surgical skin tightening.
what is the best rf microneedling device?
Genius by Lutronic is by far the most sophisticated and elegant RF Microneedling device on the market today. Before Genius, Lutronic Infini was the most popular and effective device. The technology is highly effective for both skin tightening and acne scarring. Lutronic made dramatic improvements in the technology when it created the Genius– the next generation of RF Microneedling devices. The Genius features an improved needle tip design, new motor, increased accuracy of depth and penetration, and smart technology that measures tissue impedance to allow more control over the energy delivered. The result– minimal discomfort and maximal results.

Genius combines fractional RF energy with gentle micro-needling to maximize skin tightening results. The tip has 49 sterile insulated needles that deliver radiofrequency energy at the needle tips. These needles safely and comfortably penetrate the skin to a specific depth, allowing the RF energy to more effectively bypass the skin surface and target underlying dermis. Genius is one of the only treatments that generates not only collagen, but elastin as well, resulting in thicker, tighter and smoother skin.
What are the Benefits of Genius RF Microneedling?
⦁ Tighten loose skin
⦁ Decrease visible signs of aging
⦁ Improve the quality and thickness of thinning skin
⦁ Proven safety for all skin types
⦁ Fast and comfortable treatment with minimal recovery
⦁ Natural-looking results that refresh your appearance
⦁ High patient satisfaction
⦁ Highly effective at both tightening skin AND eliminating acne scarring
how much is rf microneedling?
All RF Microneedling is not the same. The devices and the people using them range from poor to excellent, and the costs tend to correspond. A single RF Microneedling treatment can range from $500 to $2500 depending on the device, location and what kind of practice is offering the procedure. At Glow Medispa the price ranges from $1000 to $1200 per treatment, with discounts for combining treatments and for packages.
How Many RF Microneedling Treatments do I need?
For skin tightening, we generally recommend at least 1 treatment per decade you have lived, done in a series spaced about 1-2 months apart. So, if you're turning 50 that's about 5 treatments. For correction of acne scarring, this very much depends on how extensive and deep the scarring is. This can be as few as 2-3 treatments up to 6 or more.
how does rf microneedling work?
By the time you are 30, the cells in your dermis that make collagen and elastin, the fibroblasts, go dormant. They don't make more. Since your body breaks those down slowly over time, the skin slowly loses its thickness and elasticity. Genius reverses this by sending in many tiny blasts of energy into the dermis and forcing those cells to wake up and crank out the collagen. With a series of treatments, the fibroblasts make enough collagen and elastin to actually thicken and tighten the skin. And because this is your own body's collagen, you get to keep it!
genius rf for acne scarring
In addition to being one of the most advanced systems for nonsurgical skin rejuvenation, Genius™ can also be an ideal treatment for reducing visible acne scarring throughout the face. This cosmetic condition affects both men and women and doesn't respond over-the-counter creams and other remedies. The Genius' noninvasive RF technology allows the skin to heal itself from the inside out for smoother, scar-free skin without invasive procedures.
acne scarring treatment with genius: before and afters


skin tightening with genius: before and afters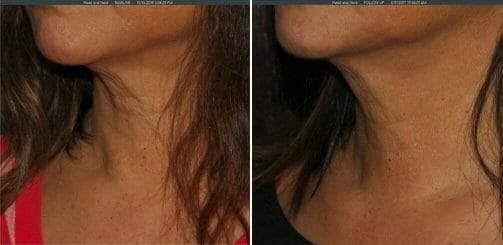 are there any side effects?
The Genius™ has built-in safety features that keep the skin from overheating and that maintain patient comfort throughout the procedure. Treated areas may appear pink and slightly flushed akin to a sunburn after treatment, but this should only last for a day or so. The Genius™ has proven safety and efficacy for all skin types, and during your consultation our medical team will tailor a treatment plan to address your specific condition and aesthetic goals.
how many rf microneedling treatments do i need for acne scars?
After acne heals, the skin can be left with small dimples, or divots, in the skin. These dimples are from destruction of part of the dermis in this area– the dermis itself is focally thinned out in the scar. Sometimes the scar can heal leaving either a red or brown spot, or sometimes both. For mild scarring, a series of 2-3 treatments is often enough to completely eliminate acne scars. For moderate to severe scarring, the number will vary depending on how extensive and deep the scars are. Severe scarring can take 6 or more treatments, and some scars may not respond if they are deep ice-pick type scars.
how long does rf microneedling last?
Because Genius RF is stimulating tightening by generating new natural collagen, the results are long lasting. Since your body breaks down collagen at about 1-2% per year, the results do slowly fade over time. The improvements take place over at least 6 months after your final treatment, and then slowly fade if not maintained. We recommend a maintenance schedule to keep the collagen from degrading over time. But the results last years even if no maintenance is pursued. Of course, we encourage you to take great care of your skin at home to maintain your results.
what is rf microneedling like?
In this video, Dr. Dee shows you exactly what it is like as she walks you through her own treatment. We use a very strong topical anesthetic and there is some redness and swelling by the time you are done. The redness resolves over the next few days.
want to learn more?
Contact Glow Medispa today in Seattle or Kirkland to schedule a consultation and find out how the Genius skin tightening system can help improve your visible signs of aging.
contact us