Glow Medispa is proud to offer EMFACE in Seattle & Kirkland
At Glow Medispa we strive to be at the forefront of advanced technology in the world of aesthetics. EMFACE represents a technological leap into the future, offering facial lift and volumization without needles or downtime. We have had tremendous success with skin tightening and resurfacing, and now we are able to address what is underneath the skin to completely revolutionize our non-surgical facelift. We are proud to be the first in the Pacific Northwest to offer EMFACE in Seattle and Kirkland.
breakthrough technology
EMFACE is the first ever and only non-invasive and needle-free device to tone facial muscles and ultimately lift the look of the face. EMFACE is designed to treat the full face at the same time. EMFACE lifts without needles or downtime! Glow Medispa is the very first spa to offer EMFACE in Seattle and Kirkland!
contact us
why you'll love emface
NEEDLE-FREE Afraid of needles? No problem! Glow Medispa does not use needles while using EMFACE

FILLER-FREE With the use of EMFACE the results are 100% filler-free, while providing a more natural look & feel.

TOXIN-FREE Toxins and chemicals? EMFACE has the ability to deliver without the use of any toxins or possibly harmful substances.
Learn about emface
Have you ever wished you could reduce your wrinkles, lift sagging skin, reveal your muscle structure and return collagen ands volume to your face WITHOUT needles, fillers or surgery? It's not uncommon if you have. Each decade after we turn 30, we lose an average of 3-8% of our muscle mass. Our new EMFACE device by BTL aims to restore your face to its youthful state and even improve your facial symmetry.
why we love it
EMFACE is the first-ever and only needle-free device to simultaneously administer RF energy to reduce the appearance of wrinkles, tone facial muscles and lift the look of the face at the SAME TIME. The smart device does all this while selectively activating and contracting individual facial muscles. Each EMFACE treatment is only 20 minutes. Ask us how EMFACE in Seattle or Kirkland can help you look and feel your best.
combination treatment
If you love keeping up with the latest beauty trends, you've probably heard of radiofrequency technology and its amazing benefits-- with EMFACE we combine RF technology and HIFES energy. Sync RF uses thermal energy to increase your facial elastin and collagen. HIFES technology generates pulses to stimulate muscle. Combined, you have the best of both worlds, and all without surgery or needles.
EMFACE in Seattle and kirkland: phenomenal results
BTL, the company that makes EMFACE, developed the technology over 5 years and performed 9 clinical studies to establish efficacy.
Studies showed 37% reduction in facial wrinkles after 4 treatments
The lift we see is provided by restoration of lost muscle tone. 30% after a series of 4 treatments

Patients in the studies experienced 23% more lift after a series of 4
visit on your lunch break
Studies were done with 20 minute treatments, one week apart for a total of 4 treatments. Many patients experienced lift after the very first treatment. With no downtime, you can get right back to your life!
contact us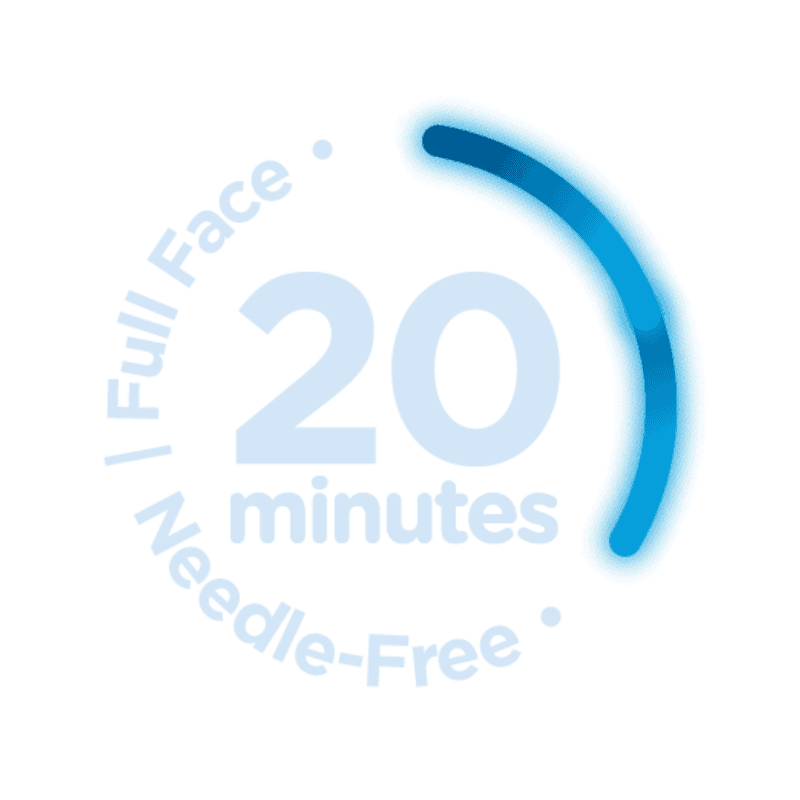 Can emface lift my eyes?
Yes! Emface can create a "lateral brow lift" and thus lifting your eyelids without surgery or needles to reveal a listed and energized look.
I want a better jawline. Can emface do that?
With emface's muscle-contracting technology, it can do just that. Your emface treatment will strengthen and tone your facial muscles that have weakened over time.
I have fillers in my cheeks and lips, can i still get emface?
Yes! Emface is complementary to injectables. During your consultation we will go over the best path forward for you.
How long will it take for me to see results?
Many patients report seeing results right away, even after the first treatment. The optimum results happen over 6 to 12 weeks after the last treatment.
Can EMFACE damage the fat in my face?
NO! EMFACE heats the skin but does not heat the fat to anywhere near the temperature that would do any harm to the fat.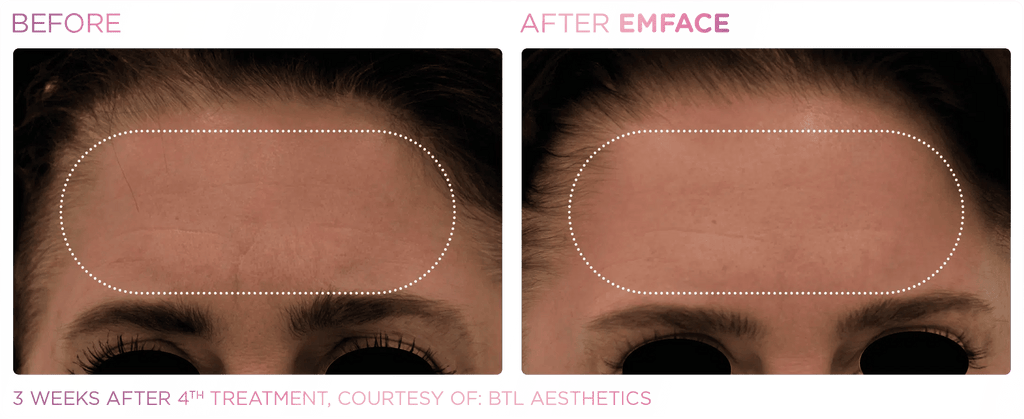 finally results under the chin
For the first time since we started in 2014, we have the ability to truly lift the face, with visible results in the under-chin area. This has been so exciting because previous treatments have been lackluster. There have been treatments that attempt to kill fat under the chin, but the visible change was minimal. We have skin tightening, but the under chin area has always been the hardest to make a difference. Take a look at the above before and afters. We have been really impressed with the dramatic improvements in the submentum, or double chin area. We are pleased to be able to offer results with EMFACE in Seattle and Kirkland.
EMFACE Treatments and perks
* 20 min treatment - lunchtime fix!
* Results in only 4 sessions
* no pre- or post-preparation
* feel a difference almost immediately post-treatment
* optimum results are seen 6-12 weeks after the last session
* no downtime required!
contact us
What is it like to have EMFACE?
EMFACE treatment feels warm and a little weird as the lifting muscles of your face are stimulated. In this video, Dr. Dee receives her very first treatment.
find out more about EMFACE in Seattle and kirkland
The best next step is to come in for a consultation to find out whether emface is right for you. You can book directly online or call us or fill our our contact form.
contact us