CHOOSE DERMAPLANING AT GLOW MEDISPA
FOR LIGHT SKIN EXFOLIATION IN WEST SEATTLE AND KIRKLAND!
As part of our comprehensive list of spa services, we offer dermaplaning for light skin exfoliation at Glow Medispa. We understand that not all aesthetic goals are the same, and whether you are seeking superficial skin correction or something more dynamic, we have something for everyone at our office in West Seattle or Kirkland. Dermaplaning can be done as a stand-alone service or as part of our full signature medical facial. Read more about our facials here.
Contact us today to schedule a consultation with our medical team and discover the benefits of dermaplaning for subtle skin revitalization without any downtime.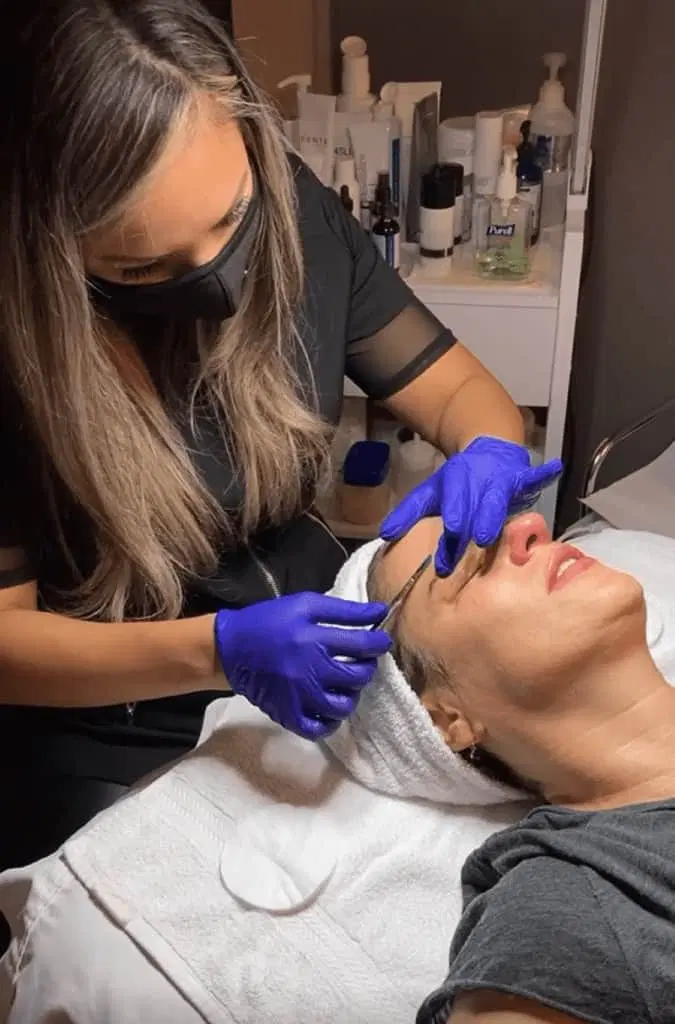 WHAT IS DERMAPLANING?
One of the least invasive methods of skin rejuvenation, dermaplaning is completely non-invasive and benefits the skin by:
Resurfacing dull, sun damaged, dull, and dehydrated skin
Removing vellus hair, or "peach fuzz"
Stimulating the skin's natural healing process to create fresh, new skin cells and gradually remodel the surface
This treatment can be an ideal option for men and women who want to subtly rejuvenate their appearances. For those who are seeking more dynamic results, alternative treatment options may be discussed during your consultation. Based on your condition, preferences, and desired outcome, we will create a treatment plan to create the best results for you.
HOW DOES DERMAPLANING WORK?
This comfortable treatment involves a medical-grade blade being lightly feathered across the skin, gently removing the outermost layer of rough, thickened skin cells and stimulating the skin's natural healing process. The dual benefits of dermaplaning are both immediate and long-lasting and can be a great way to keep your skin vibrant when used as a long-term skin care strategy.
WHAT RESULTS CAN I EXPECT?
After dermaplaning, patients typically experience an immediate improvement in the glow, smoothness, and softness of their skin, which will continue to enhance over time as new collagen is produced and pushed to the surface. There are no tell-tale signs that you have received a cosmetic treatment, creating a discreet treatment experience without any disruption to your normal activities.
HOW OFTEN TO DERMAPLANE?
Dermaplaning is typically recommended about once a month for best results. Because there is no down time, this procedure can be repeated as often as desired. Many people very much enjoy the smooth feeling after dermaplaning, and some opt for more frequent visits just to ditch the peach fuzz.
WHAT DOES DERMAPLANING DO?
As you age, the turnover of the epidermis– those cells that are always sloughing off from the surface– slows down. Way down. The result is a build-up of dead cells that look more lined and leathery. Dermaplaning literally scrapes those cells away, leaving fresh new cells at the surface, which are brighter and smoother. As a result the hairs – even the tiny ones– are shaved away along with the dead cells, resulting in a smooth fresh look.
WHAT TO DO AFTER DERMAPLANING?
At the end of your procedure, protective topicals are applied to the skin, along with sun block, to soothe and protect from sun damage. There is no downtime, and makeup can be applied immediately after dermaplaning, if desired. (We always recommend a high-quality medical grade mineral make-up, such as the Jane Iredale products. Those are the safest to use after any medical procedure).
HOW MUCH DOES DERMAPLANING COST?
Dermaplaning typically costs between $75-$150 in the Seattle area. The cost here at Glow Medispa is $110. Our experienced staff is highly trained in this procedure, ensuring your complete safety as the blade is feathered across your skin. Ask us about our medical-grade skin care products to help maintain your vibrant, soft skin after your treatment is complete.
get in touch
Contact Glow Medispa today to schedule a consultation at our office in West Seattle or Kirkland and find out how dermaplaning can improve your skin surface with results that are both immediate and long-lasting.
contact us