What is Upneeq?
There is a new way to open and brighten and enhance your eyes. As we get older, our eyes get a little heavier, more hooded and eventually can be quite droopy. This new eyedrop can open your eyes up, for a more youthful appearance.
UPNEEQ® (oxymetazoline hydrochloride ophthalmic solution, 0.1%) is a prescription eyedrop used to treat low-lying lids (acquired blepharoptosis) in adults. UPNEEQ® can enhance your eyes for a more brighter and lighter eye. Like Latisse, Upneeq is only available as a presciption from your doctor.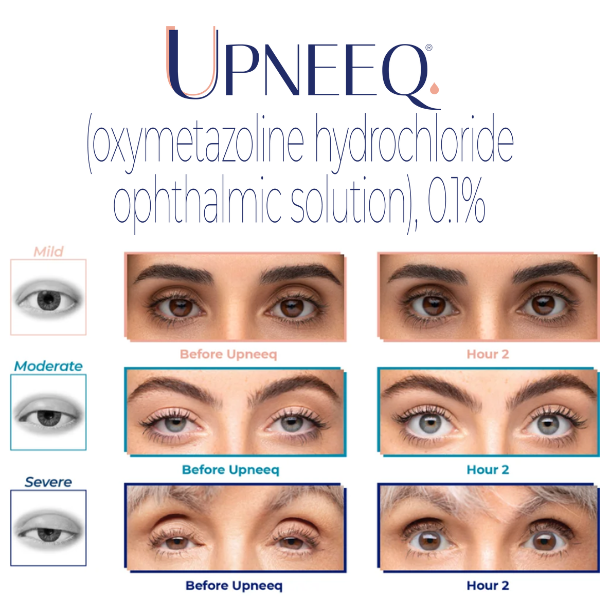 How does Upneeq Enhance your eyes?
Upneeq is a medication that acts on Mueller's muscle-- this is one of the eyelid muscles that lifts the lid. This is an involuntary muscle, so you can't make it move or open on your own. But the medication stimulates it to lift the eyelid, causing the eye to be more open and brighter.
What are the benefits of Upneeq?
Upneeq opens and brightens the eye, raising the lid and providing a more youthful look.
Upneeq can enhance your eyes for about 8 hours
Can be used daily or as needed. It can be used like make-up-- open the eyes any time you want the effect.
What can Upneeq do for you?
Lifts eyelid(s) quickly
Most patients in clinical trials had a lift in their eyelids in as little as 2 hours
◇84% of patients had some level of improvement
◇74% of patients had more than a 50% improvement

In one study, some patients saw a lift in their eyelids as fast as 5 minutes after the first dose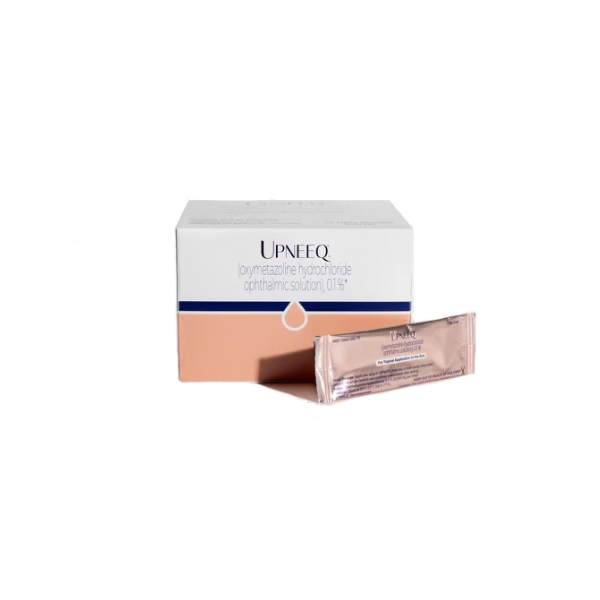 How Long does Upneeq take to work?
Many people find the drops take effect within a few minutes. The vast majority of people who try upneeq see results within 30 minutes. Occasionally it can take up to 2 hours to take effect to enhance your eyes. We find that as long as the drop landed in the eye and not on the lid, the effect is very rapid.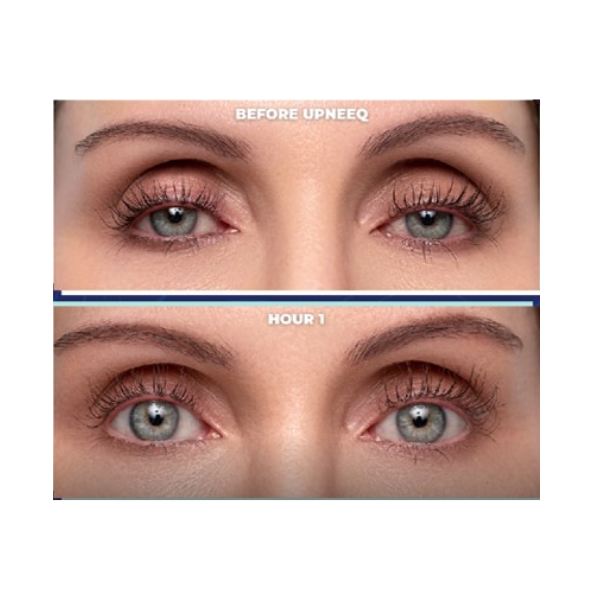 when will i see results?
Usually within minutes. May take up to 2 hours.
can Upneeq hurt my eyes?
Most people have no issues at all. Some people find it a little bit irritating at first, but this effect goes away in a minutes.
what happens if i stop using the product?
There is no long-lasting effect. The medication lasts for about 8 hours. After that time, the eyes return to their normal state.
How often can I used Upneeq?
You should use Upneeq when you want to enchance your eyes. It is a once a day application therefore if you have an event or obligation in the evening wait to use drops later in the day.
is there anyone who shouldn't use this product?
If you have a rare form of glaucoma-- narrow angle glaucoma-- upneeq should not be used. It is also not recommended if you have any active eye infection or inflammation.
What are the Common Side Effects?
The most common adverse reactions with UPNEEQ (occurring in 1-5% of patients) were eye inflammation, redness, dry eye, blurred vision, eye pain at time of use, eye irritation, and headache.
find out more about Upneeq
Upneeq is a prescription medication. Questions? We are happy to help.
contact us