What are facials?
Facials are extremely versatile skin treatments that can offer a wide array of benefits. While some facials reduce signs of aging or even out skin tone, others are designed to treat and prevent acne. Come to Glow Medispa for the best facials in Seattle & Kirkland.
Let the natural beauty in your face shine through
Whether you're struggling with acne, roughness, or dryness; looking to smooth wrinkles; ready to diminish sun spots and hyperpigmentation; or want to clear any problem areas, you'll love our medical facials at Glow Medispa. They don't just feel good. They make a significant improvement in your skin's appearance that will have your friends wondering where you found the fountain of youth!
How do facials work?
At Glow Medispa, we don't believe in one-size-fits-all facials. That's why we offer custom facials that are specifically designed to help you address your unique skincare concerns. While our facials are relaxing, they're also results-driven and intended to help you achieve healthy, radiant skin.

In most cases, a custom facial will include a cleanse, exfoliation, extraction, mask, cleanse, moisturizer, eye cream, and sunscreen. Our expert providers can also recommend an at-home regimen so you can maximize your results and enjoy long-term benefits.

Fortunately, facials are completely painless. In fact, many of our patients report that they're quite relaxing and actually look forward to receiving these treatments on a regular basis.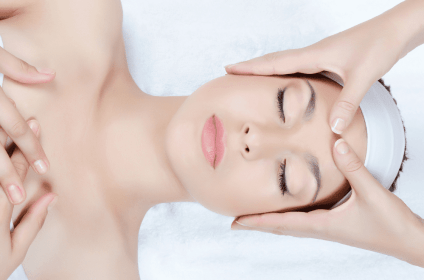 What makes our facials at Glow Medispa different?
Unlike hotel or day spas offering facials, we're focused on science, not the latest fad in skin care or gimmicky products. We use only the best medical-grade products and individually select each product for your particular skin type.
Our products have no artificial fragrances or unnecessary ingredients that can cause irritation. We provide a relaxing yet effective skin treatment that produces noticeable results, not just empty claims. That's why we offer the best facials in Seattle and Kirkland!
What are the benefits of facials?
Patients treated with facials often see:
An even skin tone
Softer, smoother skin
Less acne
Diminished scars
Smaller pores
Reduced fine lines and wrinkles
Who's a good candidate for facials?
You may be a good candidate for facials:
If you wish your skin was softer and smoother.
If you'd like to add moisture into dry skin.
If you hope to even out your skin tone.
If you want to control and prevent acne.
If you're looking for a way to smooth out fine lines and wrinkles.
If you like to relax and unwind from everyday life.
Is every facial the same?
No, we offer different facials and treatments that target different issues. Choose from the following:
GLOW SIGNATURE MEDICAL FACIAL
Deep clean your skin with a customized facial specially designed for your condition. Includes: cleanse, hot towel steam, microdermabrasion or dermaplane, chemical peel, extractions, Bio-cellulose mask and LED red light therapy. Give your skin some much needed care and get your Glow back! (60 minutes)
ACNE SKIN TREATMENT
A deep pore-cleansing treatment that soothes and rebalances problematic skin. Includes hot towel steaming, extractions of impurities and high-frequency application. (30 minutes)
CUSTOMIZED SPA FACIAL (KIRKLAND ONLY)
Give your skin the attention it needs. Begin with a moisturizing paraffin hand dip, skin analysis, deep cleansing, steaming, exfoliation, extractions, and moisturizing. Relax with a customized facial masque. Treatment steps are tailored to your skin's needs. (60 minutes)
THE ULTIMATE GLOW
This multilayered treatment incorporates the best of our facial modalities to target a variety of skin issues along with replenishing tired and aging skin. The Ultimate Glow Treatment combines dermaplaning, shallow depth micro-channeling OR light fractional laser treatment, Biopelle Growth Factor infusion with a Bio-Cellulose moisture mask, and red LED light therapy. This treatment is comfortable with little down time. Let us help you turn your skin around. You will be amazed at the results! (60 minutes)
DERMAPLANING
In this exfoliation treatment we use a surgical blade to manually remove dry dead skin cells and vellus hairs (peach fuzz) uncovering smooth and vibrant skin. (30 minutes)
MICRODERMABRASION
Using a diamond tip microdermabrasion device, we lightly sand the skin to exfoliate and remove dry dead skin cells and smooth out rough and bumpy texture. Great for treating blackheads and to prep before a peel. (30 minutes).
How long do facials take?
Although the facial you choose will determine the amount of time it will take, most facials are 30-60 minutes.
How often should I receive facials?
For optimal, long-lasting results, we recommend facial treatments every month or so. 
Should I expect downtime after a facial?
Since facials do not come with any downtime, you can return to work and your daily activities right away. 
How much do facials cost?
The type of facial you receive will determine its cost. At Glow Medispa, our facials range from $110 (acne facial, dermaplaning and dermaplaning) to $175 for the Signature Medical Facial and the Ultimate Glow treatment which includes a laser treatment is $515.
Interested in learning more?
Contact our office to find out about our facials in Seattle & Kirkland today! You can book directly online or call us, or use our contact form.
contact us