What is EMFACE?
I'm excited to bring to you this new breakthrough technology in facial rejuvenation and non-surgical facelift. EMFACE is made by the same company that invented Emsculpt Neo. EMFACE non surgical facelift is the first non-invasive facelift that simultaneously provides RF heat and muscle stimulation to lift and volumize the face with no needles and no downtime.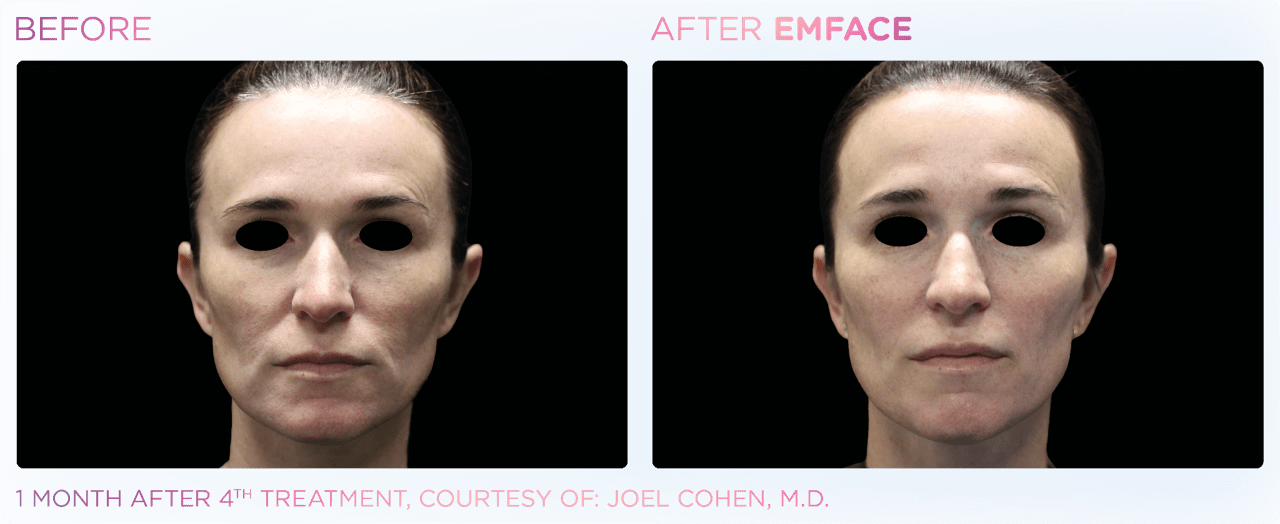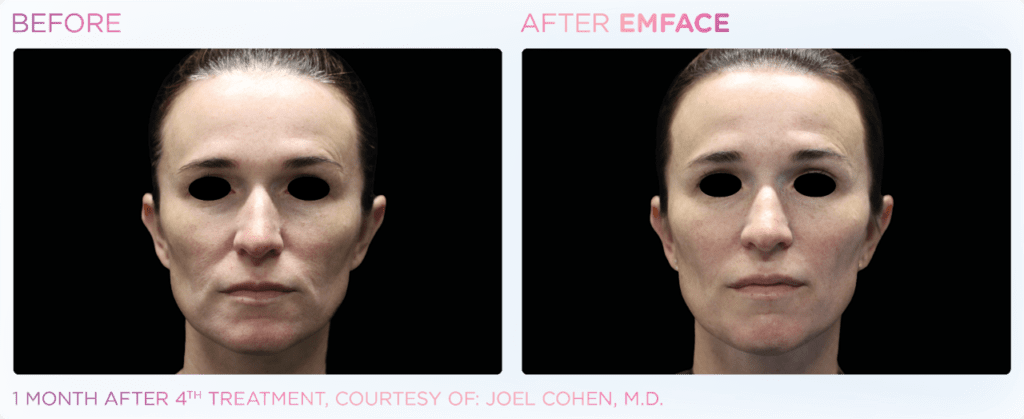 EMFACE lifts and volumizes the face while also rejuvenating the skin, creating new collagen and elastin.
How does EMFACE work?
Though the technology is very different from Emsculpt Neo, it also works with 2 simultaneous modalities: RF Heating and HIFES Muscle stimulation. HIFES is different from HIFEM of Emsculpt and Emsculpt Neo. High Intensity Facial Electrical Stimulation - or HIFES - stimulates the motor neuron that makes the muscle contract. This is important because the energy in HIFES is on the surface of the skin. The RF energy heats the skin but not the fat underneath– triggering collagen and elastin in the skin, while protecting the fat. Meanwhile the muscles targeted are all the face lifting muscles: the zygomaticus major and minor (cheek muscles) and the risorius muscle (the one that tugs up on the corner of your mouth when you smile). And it specifically does not stimulate the frowning muscles, that pull down on the face.
When a plastic surgeon does a facelift, they change these muscles surgically. For the first time ever, we are able to use those muscles to lift the face without surgery. These muscles tug up on the SMAS– a sheet of tissue that connects the entire mid -to- lower face, jawline and under the chin area, and that connects down into the muscles in the neck. So with the EMFACE non surgical facelift we can lift the whole lower face, jawline and submentum. It is so cool.
What results can I expect after EMFACE?
EMFACE has undergone 9 clinical trials and several more are ongoing. Collagen in the skin goes up by 27% and amazingly, elastin goes up by 110%. Nothing we have ever seen does that! In quantitative computer studies, wrinkles measured 37% less after EMFACE treatment. The cheek volume increased by 1.44cc (that's like getting a syringe and a half of filler, with no injections!). These measurements resulted in a 23% lift of the face. Patient satisfaction was close to 100%.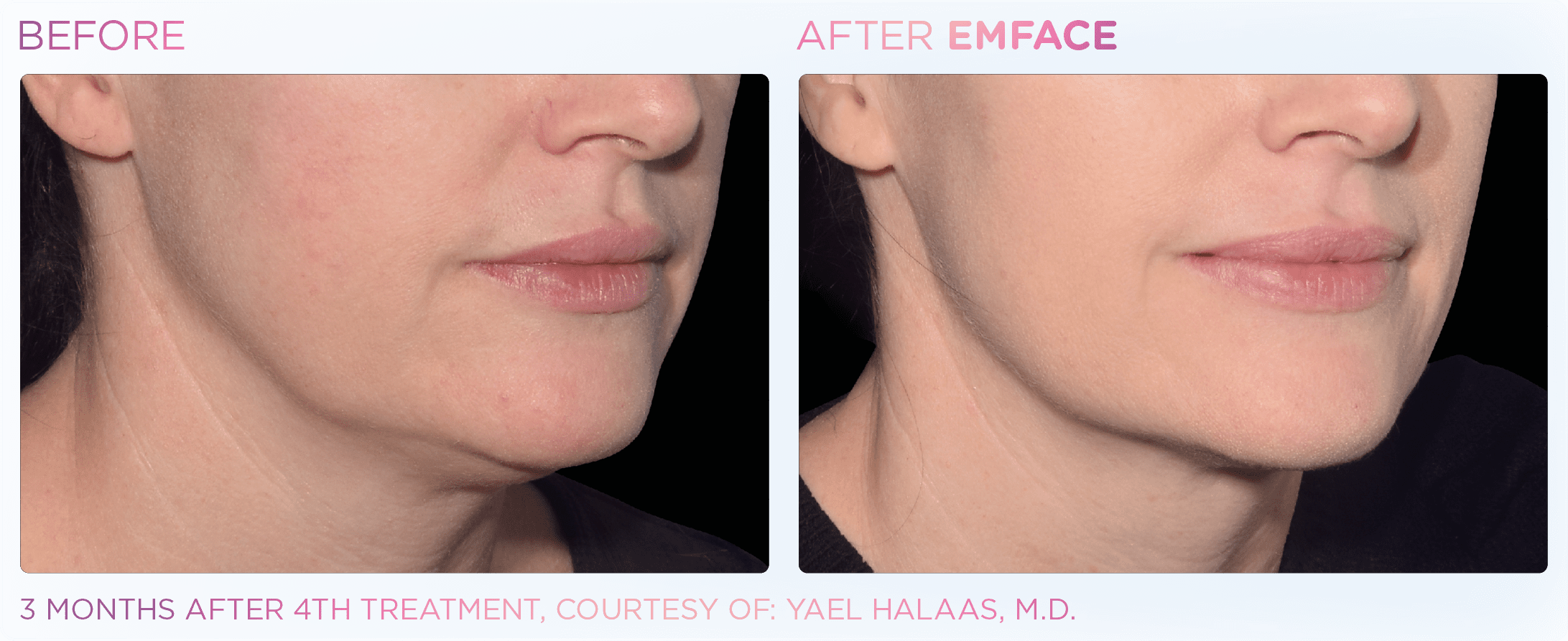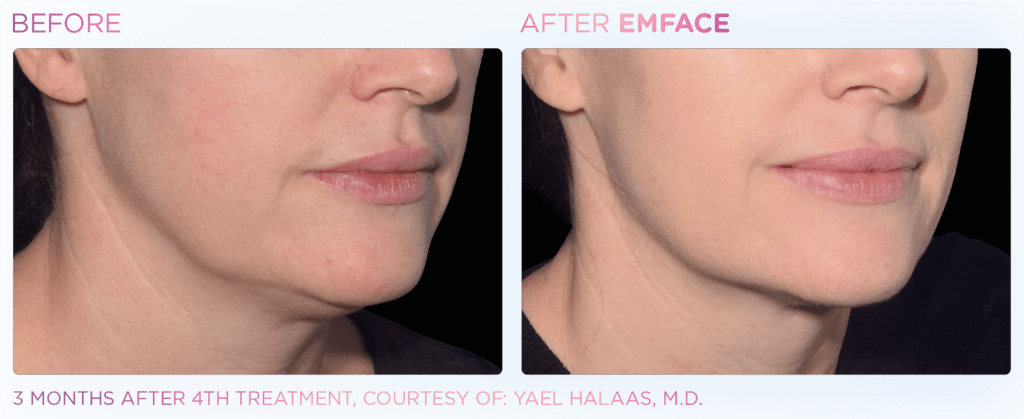 What does EMFACE non surgical facelift feel like?
What does it feel like? It feels weird! But it doesn't hurt. The muscles contract without you trying to move them– though we got used to that with Emsculpt, it is just as weird when you first feel it in your face. It also feels warm but not too hot. My face definitely felt lifted and tight after the procedure. Most patients report that it feels different right away. The optimal results happen between 6 and 12 weeks after the series of 4 treatments. You can watch me receive a treatment on our EMFACE web page here– just scroll to the bottom.
Can anyone have EMFACE?
Almost everyone is a candidate for EMFACE non surgical facelift. If you have metal in your face or neck, then this procedure is not for you. It is also contraindicated for anyone with a pacemaker or heart defibrillator. Do you have some other implantable device? Definitely ask us– many of those are made out of different kinds of plastic, and may be OK. But basically any metal is a no go.
What if I already have fillers or botox?
Totally OK! EMFACE will not harm fillers or Botox that have already been placed. It also will still work!
How long does EMFACE non surgical facelift take?
Each treatment is 20 minutes. There is no prep time or aftercare. It is truly painless, with no needles and no downtime. You can do it on a lunch break.